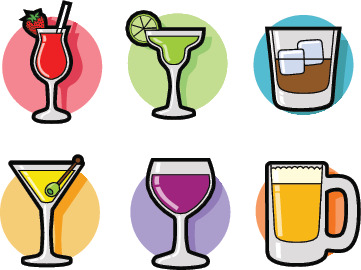 The new year is almost here and it's time to celebrate! If you're spending it in the Cayman Islands, you've come to (or live in) the right place. Read on for to-die-for drink recipes that are perfect for entertaining small groups, a cozy night in or a raging party.
Pomegranate and Rosemary Cocktail
The perfect combination of sweet and sophisticated, pomegranate and rosemary is an unlikely but amazing duo. Gin-based, it tastes as good as it smells and is pretty enough to serve to guests.
Ingredients
Gin (2.5 oz)
Pomegranate juice (chilled, 2.5 oz)
Water (1 cup)
Sugar (1 cup)
Rosemary sprigs (5)
Lime juice (1 tbsp.)
Directions
To make rosemary simply syrup, combine water, sugar and rosemary sprigs together in a pot and heat at low, stirring until the sugar dissolves. Remove from heat, remove rosemary sprigs and set aside to cool.
Add gin, pomegranate juice, one tablespoon of rosemary simple syrup and lime juice to a cocktail shaker filled with ice.
Shake well and pour into glasses. If desired, garnish with pomegranate seeds and rosemary sprigs. Serves 2.
Pear Bellini
A twist on the traditional peach bellini, this cocktail is a crowd pleaser. Aesthetically appealing and absolutely delicious, it's also a breeze to make.
Ingredients
Champagne (4 oz.)
Pear puree (1.5 oz.)
Club soda (1-2 oz.)
Directions
Pour pear puree and club soda into champagne flute.
Add champagne on top of pear puree. For added effect, do not stir. Serves 1.
Smoky Sage and Lemon Punch
Quite grown up, Stir and Strain's Smoky Sage and Lemon Punch is a bit more complicated and great for groups. Highly recommended if you have the time available (some components must be made in advance), it combines Sage Syrup, Oleo-Saccharum and Lapsang Souchong tea.
Ingredients
Water (3 cups)
Sugar (12 oz.)
Sage leaves (med. size, 10)
Gin (24 oz.)
Lemon juice (4 oz.)
Orange curacao (6 oz.)
Lapsang Souchong tea leaves (1 tbsp.)
2 lemons
1 orange
Directions
To make Sage Syrup, add 1 cup of water, 8 ounces of sugar and sage leaves to a saucepan and heat on medium-high. Bring it to a boil before removing it from the heat and letting it sit for 1 hour. Strain.
For the Oleo-Saccharum, combine the zest of 2 lemons and 1 orange with 4 ounces of sugar and muddle together in a nonreactive bowl. Allow to sit for 6 hours and strain the peels, reserving the liquid.
Brew the Lapsang Souchong tea by adding 2 cups of boiling water to 1 tablespoon of tea leaves in a heat-proof container. Allow to steep for 4 minutes, strain and let cool completely.
Combine the gin, Sage Syrup, Oleo-Saccharum, Lapsang Souchong tea, lemon juice and orange curacao in a punch bowl and stir. Garnish with lemon and orange wheels, as well as sage leaves, if desired. Serves 10.
Ring in 2015 in tasty style with a Pomegranate and Rosemary Cocktail, Pear Bellini or glass of Smoky Sage and Lemon Punch in your hand. Great for shindigs of all sizes, we encourage you to drink responsibly and plan your ride home in advance. Happy New Year!
Sources: Dine Dash, Further Food, Stir and Strain
Images via Flickr, Pomegranate by Shai Barzilay, Pear bellinis by Jules Morgan, Thanksgiving Sage Lemon by Monica Muller, CC License