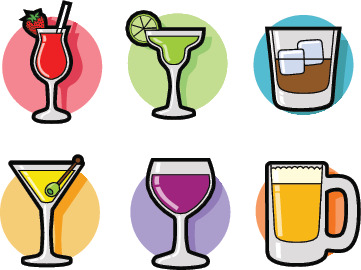 CayBlog is back with another Halloween special! If you've already read our posts on costumes and events, you're in for a treat. The following creepy cocktails are perfect for Cayman, whether you're hosting your own party or attending one of the many exciting island happenings.
Witch's Brew
In a recipe from the Food Network, Witch's Brew is a great recipe that makes enough for between 16 and 20 party-goers. For added effect, mix it all up in a black cauldron or themed punch bowl – you can even add dry ice.
Ingredients
Lime gelatin (6 oz.)

Boiling water (2 cups)

Pineapple juice (3 cups)

Ginger ale (chilled, 2 litres)

Vodka (chilled, 2 cups - optional)

Dry ice (optional)
Directions
Add the lime gelatin to a large bowl and slowly stir in boiling water, until completely dissolved.

Add the pineapple juice and let cool to room temperature.

Before serving, add the ginger ale and vodka, if using, and stir to mix.

Optionally, add dry ice for an extra exciting effect. Do not consume until completely dissolved.

Vampire Blood
Another Food Network classic, Vampire Blood is a non-alcoholic Halloween beverage that's perfect for the kids. Make it extra special by adding green food colouring to water and freezing for ghoulish ice cubes!
Ingredients
Cranberry juice (1 gallon)

Orange juice (1 gallon)

Raspberry sorbet (softened, 1 cup)

Seltzer (4 cups)
Directions
Mix cranberry and orange juices together in a large bowl.

Add softened raspberry sorbet and stir until it is fully mixed in.

Add seltzer.

Chill before serving.
Green Goblin
You can thank Food.com for the Green Goblin, a tasty mixture for adults only that's super simple to make.
Ingredients
Vodka (1 oz.)

Coconut rum (1 oz.)

Peach Schnapps (1 oz.)

Sour apple liqueur (1 oz.)

Sweet and sour mix (1 oz.)

Ginger ale (optional)
Directions
Fill a cocktail shaker halfway with ice cubes.

Add all ingredients and shake well.

Pour into an old-fashioned glass and top with ginger ale, if desired.

Garnish with a lime wedge.
Rotting Pumpkin Cocktail
Much more appetizing than the name suggests, this recipe is also from Food.com.
Ingredients
Peach Schnapps (1 oz.)

Cranberry juice (1.5-2 oz.)

Blavod black vodka (1 oz.)
Directions
Fill a cocktail shaker with ice.

Add Peach Schnapps and cranberry juice.

Shake well and strain into glass.

Using a pourer spout, or the back of a spoon, pour the Blavod vodka over the edge of the glass so that it rests in a layer on top.
Candy Corn Martini
A play on the iconic Halloween candy, this martini is irresistible. You can view the recipe here.
Ingredients
Orange vodka (flavoured and coloured, such as UV, 1 oz.)

Coffee-flavoured liqueur (1.5 oz.)

White chocolate-flavoured liqueur (1.5 oz.)

Triple Sec (.5 oz.)
Directions
Pour the liquers in order, over the back of a spoon, into a martini glass and serve.
If you're throwing a Halloween party or just a low-key gathering in the Cayman Islands, why not serve a creepy cocktail? From Witch's Brew fit for a crowd to a tangy Green Goblin, sweet Candy Corn Martini, Vampire Blood punch and appealing Rotting Pumpkin Martini, there's something to suit everyone, both alcoholic and non.