The Cayman Islands, located in the North-Western area of the Caribbean Sea, offer a diverse environment in which many types of flora and fauna thrive. From woodlands and thickets to swamps, mangroves, caves and coral, many species of bird, insect, lizard and marine life can be found enjoying these habitats. Read on for some of the creatures commonly found in Cayman.
Native Cayman Parrot
The islands are home to over 120 native species of bird, and the Cayman Parrot is perhaps the most recognized. Absolutely beautiful, they are known for their shining green and blue feathers, red accents and white eye rings. Well camouflaged in Cayman's trees, locals and visitors are likely to hear their singing and chattering in early morning and late afternoon.
Green Iguana
The Green Iguana has been spotted in the islands since the 1980s. Though a non-native species, they are one of the most likely wildlife sightings in Cayman. Both exciting and, to some, intimidating, Green Iguanas are peaceful herbivores that can grow to be up to 1.5 metres in length.
Blue Iguana
The Blue Iguana, also known as the Grand Cayman Iguana, is unique to Cayman and an endangered species. One of the longest-living types of lizards (they can live to be over 60!) they favour sunlit areas of dry forests and are vegetarian. The Blue Iguana Recovery Programme is currently in place at the Queen Elizabeth II Botanic Park in order to encourage breeding.
Marine Life
Cayman's underwater scenes are known for their breathtaking beauty. Home to some of the Caribbean's healthiest coral reef, you'll find many types of fish here from Stoplight Parrotfish to Nassau Grouper, Snapper, Lionfish, Schoolmasters and Spanish Hogfish. Southern Stingrays, Yellow Stingrays and Electric Rays can be found in abundance, as well as Green Turtles, Caribbean Reef Sharks and many more.
Bats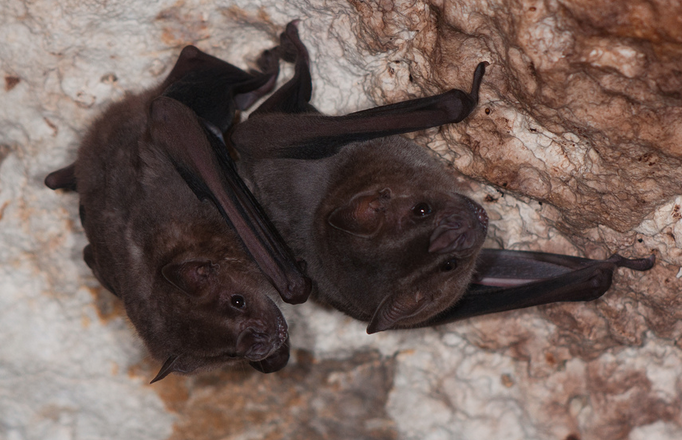 The only native mammals, 9 species of bats have been found in Grand Cayman, Cayman Brac and Little Cayman. Each specialize in a different type of food and play an important role in the islands' balanced ecology. The Grand Cayman Brown Bat subspecies is unique to that island, while the other species are found only in the Caribbean. Bats make their homes in caves and crevices and cause no harm to humans.
From the beautiful life found beneath the water to the Green and Blue Iguanas, many bat species and Native Cayman Parrot, wildlife in the islands is as diverse as it is fascinating. Stay tuned for Part 2 of this CayBlog series to learn even more about animal life in Cayman!