Summer is the most exciting time in Cayman! A popular season for tourists, the islands are teeming with things to do, from festivals to live music and much more. If you're travelling to the Caribbean with your little ones, or want to make that time off from school extra special, check out of these kid-friendly activities coming up.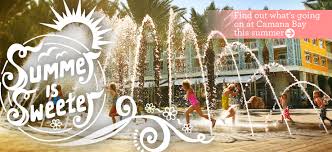 Soccer Saturdays
If you have a budding athlete on your hands, this coming Saturday, July 12th, is the last Soccer Saturday at The Crescent in Grand Cayman's Camana Bay. Kids between the ages of 4 and 12 are welcome to join in and play with the islands' Football Association National Youth Squad. Running from 11am to 2pm, there will also be crafts, face painting and more.
Summer Camp at the National Gallery
Running through until August 21st, the Cayman Islands National Gallery is offering summer camp drop-ins for kids between the ages of 6 and 14. Every Thursday afternoon, between 2 and 4pm, children are welcome to participate in an interesting, creative art activity. These classes are free and limited to 20 attendees; reserving your child's spot in advance is recommended.
Moonlight & Movies Summer Series
Every Tuesday throughout the summer, Camana Bay is hosting the Moonlight & Movies Summer Series under the stars. Films are shown outdoors on a large screen at 7pm, at The Crescent. Upcoming showings include Star Dust, Kung Fu Panda and Megamind, which are sure to be crowd pleasers!
Movies, sports and art are three great ways for kids to pass the time during the hot Cayman Islands summer. Stay tuned for more great suggestions, including upcoming camps during July and August.