Ah, happy hour...that glorious post-work time period that's home to tasty, inexpensive drinks, laughter and relaxation. Known as a top Caribbean vacation spot for unwinding, it makes sense that the Cayman Islands offer a range of options for the working and visiting crowds. Let's take a look at our top choices.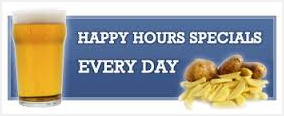 5 to 7 at Seven
Seven, one of the Grand Cayman Ritz Carlton's fantastic restaurants, offers Happy Hour from 5 to 7pm every day. Enjoy tasty bar snacks, including lobster rolls, jerk maple glazed pork belly and cracked oysters, while imbibing in specialty whiskey and bourbon cocktails, such as the Sour West, which combines High West, Drambuie, lime and ginger. All appetizers, cocktails and wine by the glass are only CI$7.00.
Abacus
Abacus, a contemporary Caribbean bar and lounge located in Camana Bay, is ideal for those looking to head out of the office a bit early. They offer Happy Hour every day from 3 to 7pm – that's 2 hours longer than many other bars and restaurants. Come for a drink and stay for dinner, which begins at 530pm.
Breezes by the Bay
A tropical grill and rhum deck, Breezes by the Bay is known for their "Countdown to Sundown" Happy Hours, which take place every evening. What better way is there to enjoy an evening than with a tasty drink and a small plate of fish and chips, sugar cane shrimp or house smoked ribs?
Deckers
A grille with an island flair, Deckers is a popular Seven Mile Beach establishment located in West Bay. Home to some of the islands' best lobster, their Happy Hour can't be beat. Stop by after a tough day at work for great drinks and tasty dishes from 5 to 7pm. Stay to enjoy a live performance from Hi Tide Thursday through Saturdays.
Grand Old House
On the Rocks, Grand Old House's fully renovated waterfront bar, is offering Happy Hour from 530 to 730pm every night. Complement the fantastic live music with 20% off of tapas and specials on beer, wine, Prosecco and more.
Ortanique
Cayman's Ortanique restaurant never fails to impress with their Happy Hour and Bar Bites, which is available Monday through Friday from 4 to 7pm. All Bar Bites, from fresh catch ceviche spoons to ahi tuna tartare and saltfish croquettas with scotch bonnet romesco, are only $5.00 and all beverages sold by the glass are 25% off. It's irresistible.
Agua Restaurant and Lounge
At Agua's Aperitivo Happy Hour, it's imperative that you indulge in CI$6 gin and vermouth cocktails. These are served alongside a wonderful selection of savoury cured meats, cheeses and olives...it's a taste experience to remember.
Which is your favourite Happy Hour hangout in Cayman and why? We'd love to hear from you! Contact us on

Facebook

or

Twitter

.